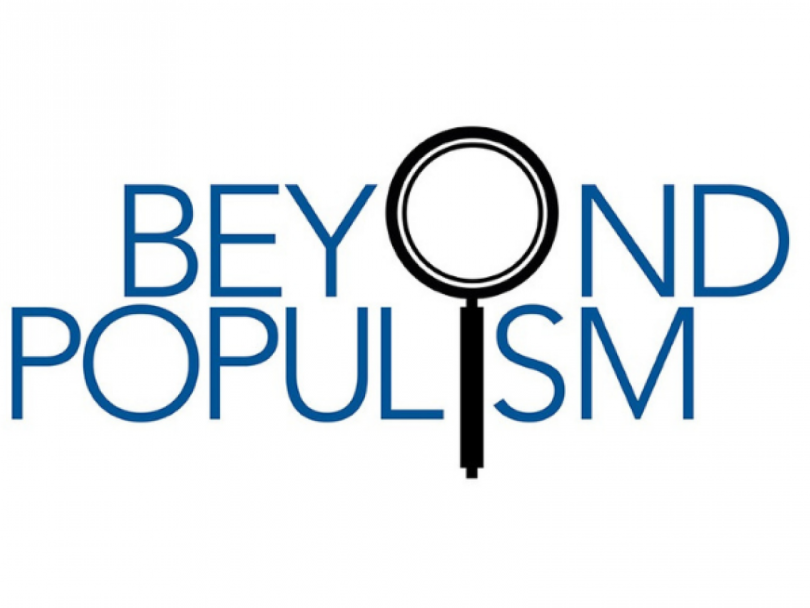 28.04.2021 /18:00 - 28.04.2021 /18:00
Beyond Populism: The Era of Nostalgia
Welcome to Beyond Populism, an online lecture and discussion series, organized by the Finnish Cultural and Academic Institutes!
This time the event is hosted by the Finnish Institute in Germany, and it will be held at Wednesday 28th April at 7 pm in Zoom. The lecture "The Era of Nostalgia" is presented by Dr Antto Vihma, leading Researcher in the Global Security Programme at the Finnish Institute of International Affairs (FIIA) and functions as Adjunct Professor (docent) at the University of Eastern Finland.
The lecture will be in English.
Register for the event here: https://link.webropolsurveys.com/Participation/Public/f75a7bd4-93af-4081-bc8e-7b937959c6e6?displayId=Fin2254090&fbclid=IwAR18dKf2yefr255fCbWD5GjlOBMFVMJxklrW5KgAUOrcqhoZ0c_KrhNdIHY
Beyond Populism enters into the role of the researcher and institutes as producers of research information in the era of populism. One of the basic tasks of research is social interaction. This task is carried out by researchers and research institutions by popularizing research results.
Beyond Populism consists of nine lectures or discussions as well as an ending panel discussion. Free online lectures are held in Zoom and they are open for anyone interested. The events are held in Finnish or English. Recordings of the events will be available for viewing for 14 days after each event.
The rest of lectures or discussions you will find here: https://instituutit.fi/beyond-populism-verkkoluento-ja…/
The series is part of the Year of Research-Based Knowledge 2021 events.
Beyond Populism: The Era of Nostalgia
Nostalgia has become one of the primary driving forces of contemporary politics. Scholars have recently written about a "global nostalgia epidemic", which has unpredictable implications for democracy.
Historically, nostalgia is a quintessentially modern condition, akin to cultural pessimism, surfacing periodically in Western political thought. Restorative nostalgia settled like a cloud over European political thinking after the French Revolution, and it has never fully lifted since. A break in the history of ideas, the new ideas introduced by the Enlightenment, were accused of "rotting" society and the old order.
The presentation analyses the current interconnection between nostalgia and populism. It identifies four drivers of nostalgia. First, technological change, especially digitalization, continues to revolutionize the lifeworld of modern citizens. Second, the changes in geopolitics stimulate nostalgic politics in both rising and declining powers. Third, the demographic trends of an ageing population, urbanization, and increasing diversity are shaping politics across Western countries, albeit with varying intensity. Lastly, and importantly, the shift in values that crystallized in the Silent Revolution of the late 1960s is at the heart of current political polarization. The narrative of a healthy order turning "rotten" as a result of progressive ideas still plays a central role – just as it did in the aftermath of 1789.
However, a nostalgic feeling does not imply that reflective, self-aware thinking is turned off. Nostalgia should not be denied or judged without further consideration: unprocessed nostalgia in particular is politically dangerous.
Bio
Dr Antto Vihma (b. 1978) works as a Leading Researcher in the Global Security Programme at the Finnish Institute of International Affairs (FIIA) and functions as Adjunct Professor (docent) at the University of Eastern Finland. Vihma has published widely on global politics and governance, including in leading journals such as International Affairs, Geopolitics and Global Environmental Politics. Vihma has been a Visiting Fellow at the Massachusetts Institute of Technology (2015/2016), US, and SciencesPo (2013), France. Vihma has also hosted a popular podcast aired by Finnish Broadcasting Company (Yle), together with historian, PhD Miika Tervonen.
Graphic: Jan Gregor Putensen