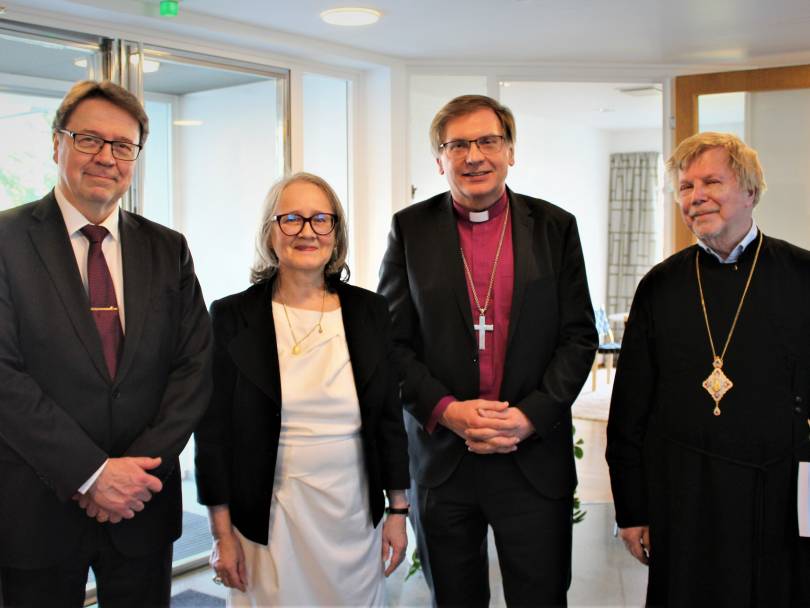 23.03.2022 - 23.03.2022
A Seminar for Friendship Congregations
On Wednesday the 23rd of March FinnAgora organized in co-operation with the Hungarian Evangelical Lutheran Church, a seminar for Finland's friendship congregations in Hungary. The theme of the seminar was Friendship and Co-operation, and it was held at the beautiful residence of the Ambassador of Finland on Kelenhegyi út.
The program of the seminar included inspiring opening remarks by Finland's Ambassador Markku Virri and Tamás Fabiny, the Bishop of the Hungarian Evangelical Lutheran Church. In his presentation, Father Ambrosius emphasized the importance of the friendship congregations working together and also spoke about his own journey in building a wide range of connections, in which Hungary has played a key role. An important creator of connections has also been Kinga Marjatta Pap, whose performance connected history with the present and set our vision towards the future.
For FinnAgora, the aim of the seminar was to explore opportunities for deepening co-operation with friendship congregations. All participants were not yet fully acquainted with the practical work of FinnAgora, which was described in a presentation by Anneli Temmes (interim director), which also involved a discussion on wishes and opportunities.
There are a total of 55 congregations in Hungary co-operating with Finnish friendship congregations. Around twenty congregations from all over Hungary attended the seminar. At the end of the seminar, we heard about experiences of Finnish co-operation as well as about challenges, e.g. to activating young people, which are very much the same issues as in Finland.
There was a lot to discuss in the free-form part of the seminar, and certainly many ideas to be cherished and further developed.