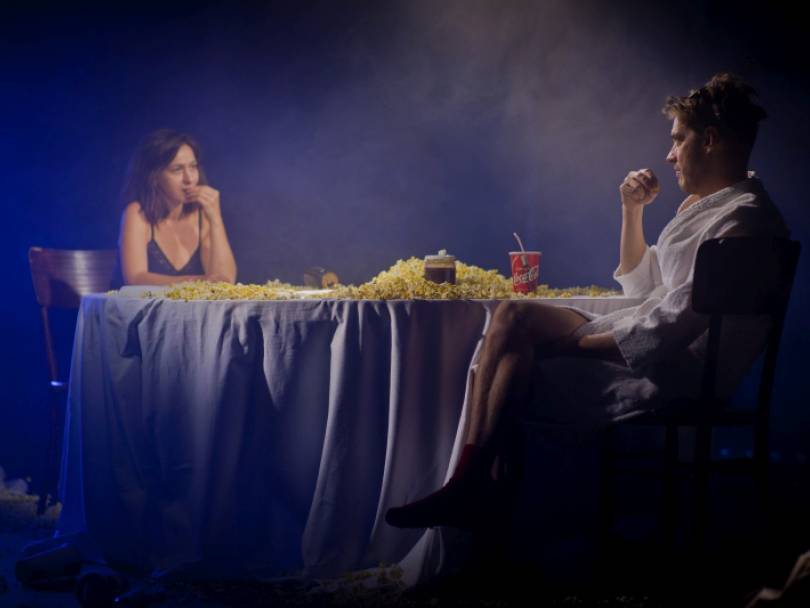 22.03.2018 /20:00 - 23.03.2018 /22:00
KRISTIAN SMEDS´ STAGE WORK JUST FILMING TO BUDAPEST
Kristian Smeds´ stage work just filming at Trafó House of Contemporary Arts will get its Hungarian premiere in March.
Kristian Smeds is one of the leading theatre personalities in Finland. His just filming received its world premiere in the Finnish National Theatre in the fall of 2016 and toured also in Estonia that year.
Just filming brings together two formidable acting talents: Annamária Láng from Hungary and Juhán Ulfsak from Estonia. Their partnership produces a theatrical dance rich in passion, absurdity and humour. A highly visual and musical performance, just filming is also a heart-felt tribute to cinematic art.
Kristian Smeds has directed and written several stage plays. In 1996 he founded the famous Theatre Takomo, working as the Artistic Director during 1996-2001.In 2001-2004 he was the head of the historical Kajaani city theatre, which even gained international recognition during the time. Since 2005 he has been working mainly in Baltic countries.

post-communist
Masculinity and Femininity
strike a common spark
under the eternally starry vault
of the melancholic northern sky
meanwhile the big camera is rolling
and the old school's
reel of tape
is spinning loose
and once again
as the fin-de-soirée
lights grow dim
and the folk spill into the town-squares
the glistening snow lies fann'd beneath
an evanescent
forever flown
magic-moment memory
of the last tango
Kristian Smeds (trans. Eva Buchwald)
Actors: Láng Annamária, Juhán Ulfsak
Dramaturge and director: Kristian Smeds
Music: Verneri Pohjola, Pekka Kuusisto, Timo Kämäräinen
Light design: Teemu Nurmelin
Video: Lennart Laberenz
Audiovisual assistents: Eetu Hiltunen, Matias Koivuniemi, Olli Valkola
Sound: Vranik Krisztián
Sound technician: Mikki Noroila
Stage master: Tarmo Tanttu / Aslak Sandström
mascara consultant: Laura Sgureva
Producers: Roosa Vaverka, Márkus Virág
Assistant to director: Ronja Louhivuori

just filming

Trafo House of Contemporary Arts
Trafó Theatre Hall
Language: broken English

Duration: 90'
Ticket price: 2400 HUF / Student: 1900 HUF

More information: http://trafo.hu/en-US/just_filming