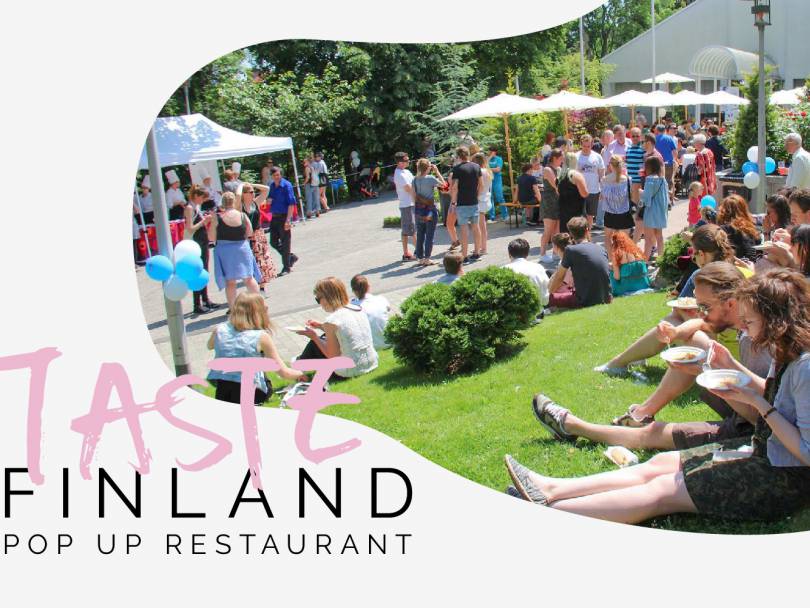 12.05.2018 /15:00 - 12.05.2018 /19:00
The popular Restaurant day returns 12.5
TASTE Finland pop up restaurant
The Restaurant day organized by Finnagora and the Finnish Embassy in Budapest has already become a tradition. This year the event is organized for the 7th time in the courtyard of the Finnish Embassy in Budapest. The Restaurant day-concept is originally from Finland and it has been hugely popular around the world.
This year the event profile has been renewed. We will serve the biggest street food trends in Finland right now at the TASTE Finland pop up restaurant! The vegans out there will be happy to know that there will be a vegan main course and dessert option! We will serve e.g. tacos with Härkis, which is a vegan fava bean mince that is very popular in Finland right now. Additionally, there is going to be a dessert made from crickets and a surprise vegan dessert and much more. For drinks we are serving e.g. lemonade with arctic berries made by the Finnish Embassy chef Niko Tähti, the best coffee in town from Fekete and refreshing champagne from Varros & Co.
DJ Suefo (Mana records) will play some of the best contemporary Finnish music ranging from jazz and folk to electro. Visitors also have a chance to play the curious Finnish game mölkky, decorate the asphalt with their drawings and shop Finnish second-hand products.
By participating, visitors help Team Finland do some good too. The proceeds from the event are donated to Napsugár Tagóvoda, a kindergarten for underprivileged children.
Organized by FinnAgora and the Embassy of Finland in cooperation with: Tampereen Ammattikorkeakoulu, Budapestin Suomi-koulu, Fekete and Varros & Co.
TASTE Finland pop up restaurant is a part of the Eleven Tavasz festival organized by Bartók Béla Boulevard.
Time: 12.5. 3 p.m. until 7 p.m.
Place: the courtyard of the Embassy of Finland in Budapest, Kelenhegyi út 16/A, Budapest.
Official hashtags: #tastefinland #ElevenTavasz
Facebook event: https://www.facebook.com/events/583633275341347/