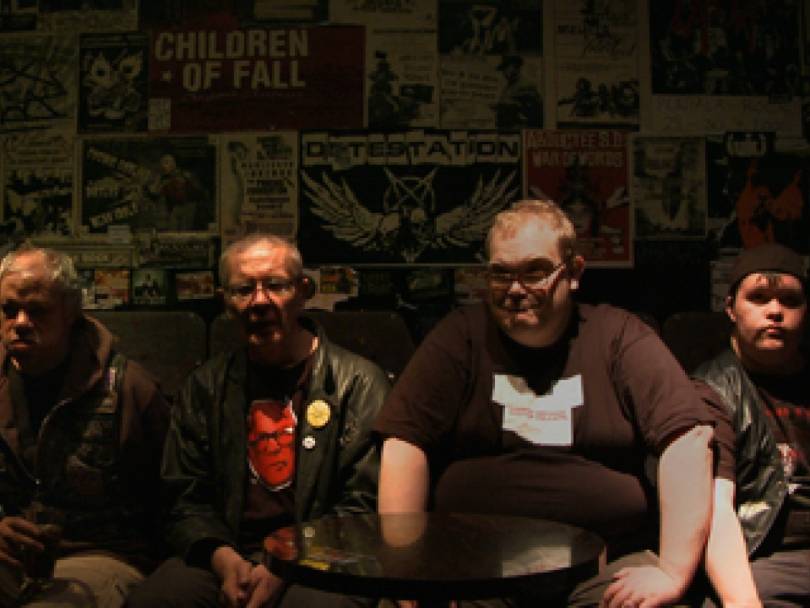 11.05.2015 /19:00 - 11.05.2015 /19:00
The Punk Syndrome in Toldi cinema
Finnagora offers Hungarians a unique way to get into the Eurovision mood by screening The Punk Syndrome, a documentary about Finland's this year's Eurovision representative, in Toldi cinema on Monday 11th of May at 7 pm.

The Punk Syndrome is an internationally awarded documentary film about Finland's most kick-ass punk band, Pertti Kurikan Nimipäivät, which will be presenting Finland in the Eurovision Song Contest in Vienna, Austria in 2015. The film follows four handicapped professional musicians, Pertti, Kari, Toni and Sami, on their journey from obscurity to popularity. The journey includes fights, love, crying and big feelings as this four great personalities spend time together in both recording studio and on tour.

The Punk Syndrome is a film about the essence of punk. It's a story of handicapped people rebelling against the mainstream. The songs of Pertti Kurikan Nimipäivät are about the problems in society as well as about things that they face in their everyday life: how going to the pedicurist sucks and the misery of living in a group home. The guys give piece of their minds to both politicians and people whose attitudes towards people with intellectual disabilities need improvement.

The Punk Syndrome will be screened in Toldi cinema on Monday 11th of May at 7 pm. After the screening visitors have a change to discuss the importance of art for handicapped people with Hajnalka Tarr, the director of Mosoly Otthon Alapítvány foundation which organizes cultural program for handicapped children in Hungary. Tickets to film cost 1400 forints for adults and 1000 forints for students.

Pertti Kurikan Nimipäivät will perform in the first semifinal of the Eurovision Song contest on Tuesday 19th of May.