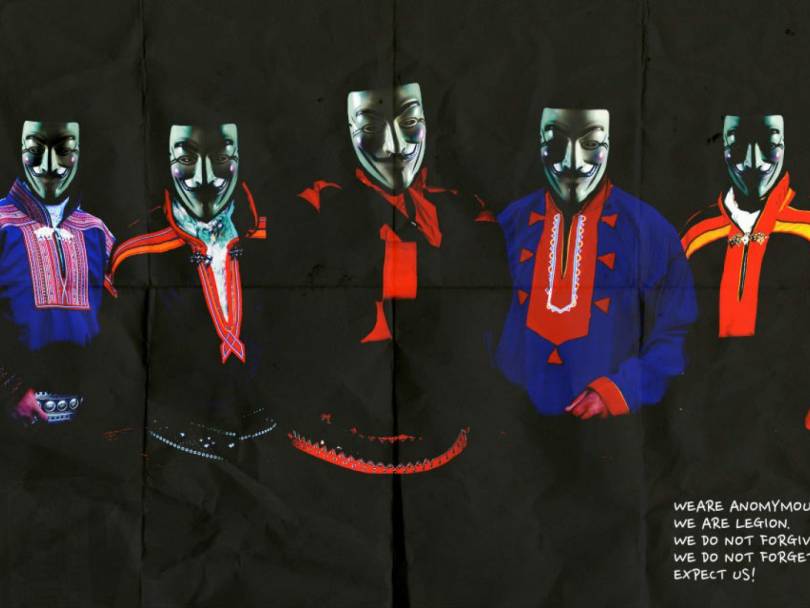 23.05.2017 /19:00 - 29.05.2017 /18:00
Young Sámis and cultural activism

Young Sámis and cultural activism introduces the politically committed art of young Sámi artists and discusses the rights and situation of indigenous people in current society through arts. The newly emerged movement involving young Sámis in Sámiland wants to make their voice heard, raising issues of minority rights and anomalies in the Sámi politics of the Nordic countries.

The Sámi people, the only indigenous people of Fenno-Scandinavia, and in fact, of the whole European Union, has for centuries been subject to discrimination. Although their legal situation has improved to some extent over the last few decades, Sámis still struggle for equal rights and stronger land rights. The exploitation of natural resources, the climate change, the problems of native Sámi language education rights and assimilation are threatening the Sámi culture and way of living today.

While generations of Sámis were silenced, oppressed and denied of their native way of living, the young generation is now speaking up. Sámi artists have become an important voice of the indigenous people in this struggle.

One of the most visible groups fighting for Sámi rights is Suohpanterror. As a collective of Sámi artists working under a pseudonym, it has soon become a popular activist group characterised by its radical pop-art which is startling and thought-provoking at the same time. One of their members defines their work as "art-shaped politics". Suohpanterror's aim is to bring into attention Sámi rights and injustices–such as discrimination or racism–faced by the Sámis. They also shed light on the multinational mining industry intending to exploit the natural resources of Sámiland as well as on the fact that, as of today, Finland has not yet ratified the Indigenous and Tribal Peoples Convention (ILO 169).

Young Sámis and cultural activism will start with the opening of Suophanterror´s poster art exhibition on the 23rd of May 2017. Besides the exhibition, the event contains several acclaimed Sami films, discussions and debates with young Sámi activists, a concert and a book presentation.

FULL PROGRAM

23.5.
7 p.m. OPENING: Suophanterror poster exhibition (open 23.-29.5.)

25.5.
6 p.m. Sami Blood (NO/SE/DK) 2016, dir. Amanda Kernell (in collaboration with Titanic Film Festival)
8 p.m. Discussion with Sámi cultural activist and chair of Finnish Sámi Youth Organization Petra Laiti and one of the main organizers of the CEU-protests Gáspár Békes.

26.5.
7 p.m. Book presentation and poem reading of Örökanyák – Világlányok. Számi versek. Reading by translator Petra Németh.
8 p.m. CONCERT: Niillas Holmberg & Roope Mäenpää (FI)

27.5.
5 p.m. Me and My Little Sister (FI), 2015, dir. Suvi West
6.15 p.m. Discussion with Sámi of the year 2016, musician, poet and author Niillas Holmberg.

28.5.
3 p.m. Suddenly Sami (NO), 2009, dir. Elle-Astri Lundby (in collaboration with Norwegian Embassy in Budapest)
4.30 p.m. Kaisa´s Enchanted Forest (FI) 2015, dir. Katja Gauriloff

All program will take place at A38 Exhibition Space, Petőfi bridge, Buda side

FREE ENTRANCE to all events
only registration is needed for the concert evening. Find registration link here.
Facebook event: here