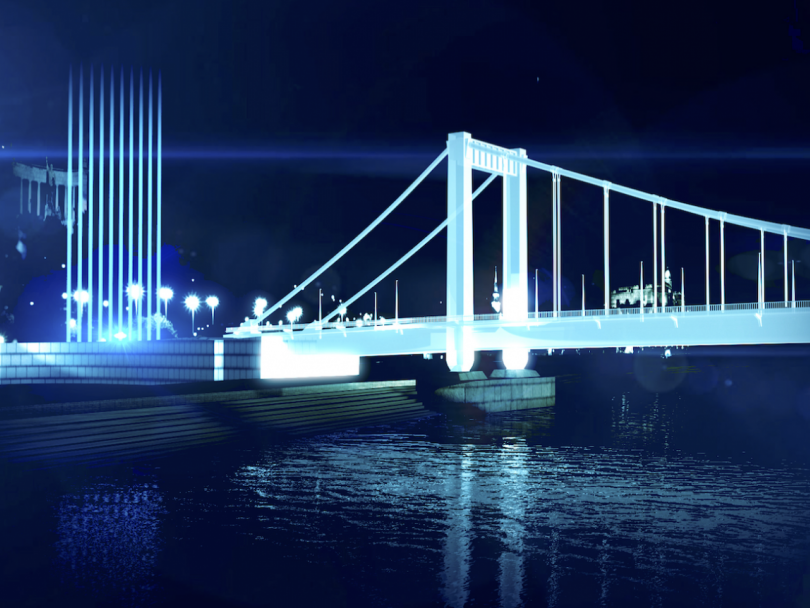 03.12.2017 /21:00 - 06.12.2017 /23:30
Audiovisual installation: Aurora Borealis
Aurora Borealis is a light sculpture and sound composition inspired by a temporary visible phenomenon of nature. Produced by FinnAgora, the light sculpture is situated in front of the Gellért Hill Waterfall and can be seen between 3-6 December.
The common project by Finnish and Hungarian artists celebrates the centenary of Finland's independence.

During the same time frame the Embassy of Finland makes Elisabeth Bridge shine in the blue and white colours of the Finnish flag.

Media designers of the Aurora Borealis light sculpture are media artists András Nagy and László Zsolt Bordos. Sound atmosphere is created by Kasperi Laine, one of the most recognized Finnish sound designers. Kasperi Laine is a renowed rapper, producer and DJ. He was awarded the Finnish National Prize "Suomi" in 2016. The prize is presented by the Finnish minister of education and culture to acknowledge significant artistic careers. Since early 2000, Bordos.Artworks has been working in the field of lighting design and visual design collaborating with numerous Hungarian and international theater, opera and concert productions.

The installation is visible on:

Sun 3 December 20:00-24:00
Mon 4 December 16:30-24:00
Tue 5 December 16:30-24:00
Wed 6 December 16:30-24:00

Location: Gellért Hill Waterfall at the Buda end of the Elisabeth Bridge
Buses: 5 / 7 / 8E / 108E / 110 / 112
Trams: 17 / 19 / 41 / 56 / 56A

Free entry


Aurora Borealis installation is produced by FinnAgora. The professional partner of the light installation is Let it be! art agency.

The project curator is art manager Andrea Kovács, designing and coordinating Hungarian and international interdisciplinary projects.

Cooperating partners: Bordos.Artworks, Let it Be! art agency, Colossal Kft.

The decorational lighting of the Elisabeth Bridge is realized by the Budapest Public and Decorative Lighting Ltd.