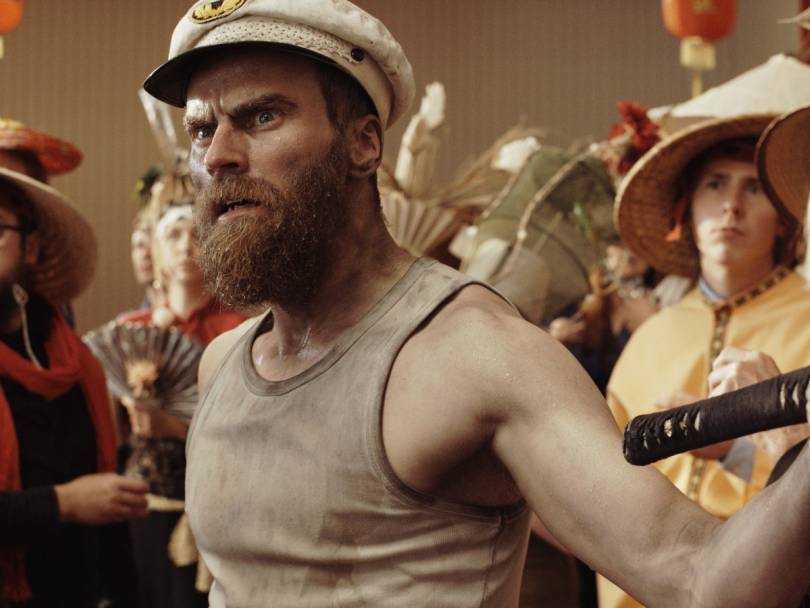 07.04.2017 /17:30 - 08.04.2017 /16:30
Two screenings of Samurai Rauni at Titanic International Filmfest
Hungary's biggest international film festival, Titanic International Filmfest 6 – 14 April presents Samurai Rauni (2016) by a Finnish director Matti Rättö on Friday 7 April and Saturday 8 April at Toldi Mozi.
Rauni Reposaarelainen is an overpowering, alcoholic samurai who sows damage and sorrow in his surroundings in Meri-Pori, western Finland. A mystical pseudonym "Shametear" makes a contract with the Satakunta Guild of Ninjas in order to assassinate Rauni. Rauni easily survives the assassination attempt and wants to find out who's hiding behind the name Shametear. This is the beginning of the bloody and absurd road movie in Meri-Pori's samurai reality.
The film will be screened in the original language, with English and Hungarian subtitles.
Samurai Rauni screenings at Titanic International Filmfestival:
7.4. 5.30 pm Toldi Mozi
8.4. 2.45 pm Toldi Mozi
Full festival programme
Samurai Rauni homepage
Director: Mika Rättö
Screenwriter: Mika Rättö, Sami Sänpäkkilä, Harri Sippola, Tuomas Niskanen, Tuomas Laurila
Cast: Mika Rättö, Veera Elo, Minna Norrgård, Reetta Turtiainen, Harri Sippola, Jori Kemppi, Juha Hurme, Jarno Malinen, Pauliina Haapala, Ilkka Kari, Anne Mäkinen