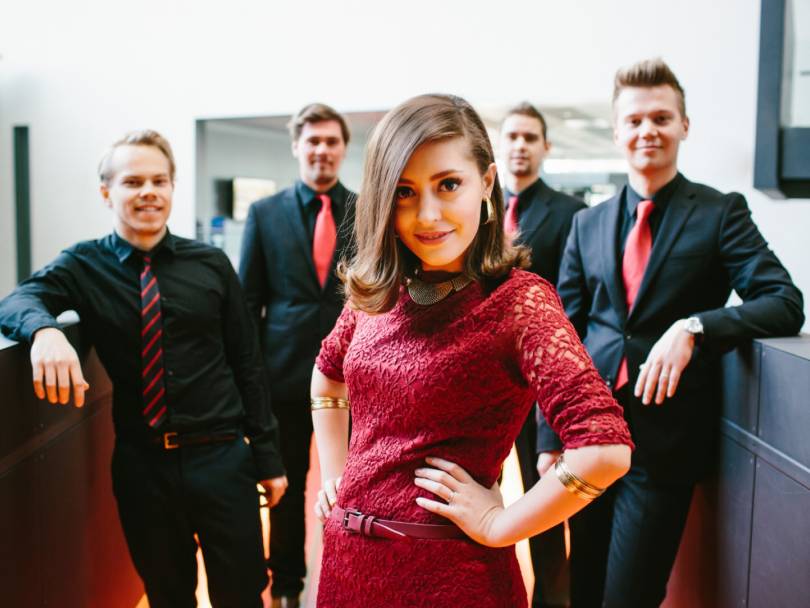 10.05.2018 /20:00 - 10.05.2018 /23:00
TelepART – Elena Mindru Finnection at Opus Jazz Club 10.5.
Elena Mindru Finnection is a Finnish jazz group led by the singer Elena Mindru. Mindru is of Romanian origin, which can be heard in her compositions, but resides in Finland, where she is a doctoral student at the Sibelius Academy's Jazz Department.
Elena Mindru Finnection consists of a group of talented young Finnish musicians. The band's first album was released in 2014 and was very well received in Finland, as well as in Romania and other European countries.
Mindru has performed as a jazz vocal soloist with the European Jazz Orchestra, the Transilvania Philharmonic Orchestra, the Finnish Air Forces Big Band and many other significant bands in Europe. Of the numerous European jazz awards Mindru has received, the most important is the 2nd Prize and Public Prize by a jury presided by the great Quincy Jones at the Shure Montreux Jazz Voice Competition in 2012.
The concert is arranged by the Romanian Cultural Institute in Budapest.
Lineup:
Elena Mindru – voice
Sampo Hiukkanen – violin
Tuomas J. Turunen – piano
Eero Seppä – bass
Anssi Tirkkonen – drums
Elena Mindru Finnection
10.5.2018, 20:00.
Opus Jazz Club
1093, Budapest, Mátyás str. 8.

Info & Tickets:
https://opusjazzclub.hu/