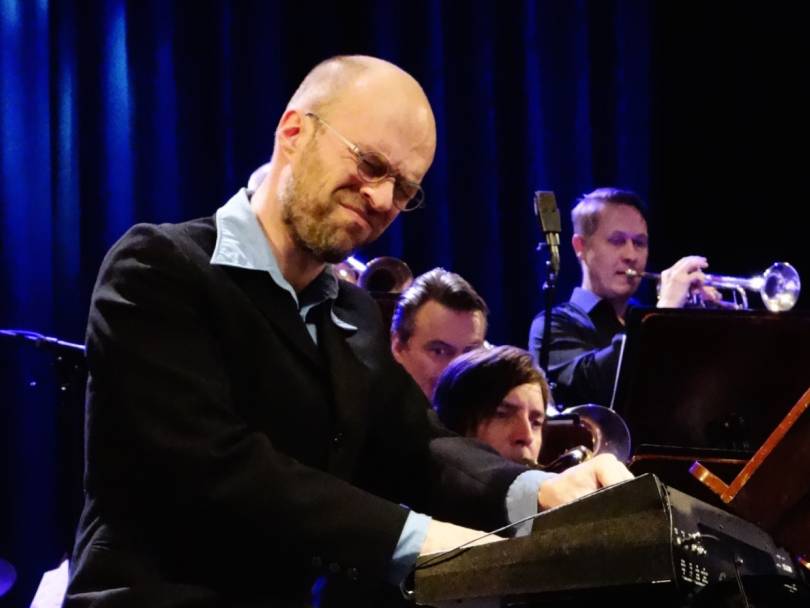 18.05.2018 /15:45 - 18.05.2018 /17:45
Finnish jazz musicians Kalle Kalima and Kari Ikonen at Opus Jazz Club in May
Finnish guitarist Kalle Kalima is playing with the A Novel of Anomaly quartet at Opus Jazz Club the 16th of May. A Novel of Anomaly is a band led by the Swiss singer Andreas Schaerer. Their music is playful and has a touch of fiddler mentality. The band consists of talented jazz musicians from all over Europe. Besides Shaerer and Kaliman the band consists of Swiss drummer Lucas Niggli and Italian accordion player Luciano Biondini.
Pianist Kari Ikonen and his orchestra Nazionale Della Luna are playing at Opus the 18th of May. Ikonen founded the orchestra together with Manuel Hermian in 2015. Ikonen is one of the most distinguished jazz musicians in Finland. He is known for his multinational Karikko-sextet as well as for his cooperation with many top bands and musicians like UMO, Ingrid Jensen, Bob Moses, Magnus Broo and Ron McCure.
Opus Jazz Club
Schaerer – Niggli – Biondini – Kalima: A Novel of Anomaly
16.5, 20:00.
Tickets & info: https://bmc.hu/en/programs/schaerer-biondini-kalima-niggli-a-novel-of-anomaly
Orchestra Nazionale Della Luna
18.5, 20:00.
Tickets & info: https://bmc.hu/en/programs/schaerer-biondini-kalima-niggli-a-novel-of-anomaly